Dazzle with Top 10 Quality Fashion Products at ISEF 2021
The ISEF 2021 exhibition presents a variety of quality fashion products from local producers who prioritize halal and sustainability.
Jakarta – The spirit of sustainable fashion resonates in the implementation of the Indonesia Sharia Economic Festival (ISEF) this year. Producers and consumers are invited to be more concerned about the thayyiban of fashion products, namely by paying attention to the sustainability of people's lives, environmental harmony, and mutual welfare. Through an exhibition that will be held in hybrid (online and offline) on 27 to 30 October, ISEF 2021 opens up opportunities for sustainable fashion business players to offer their best works to a wider market, especially the Muslim consumer.
So, what are the recommendations for the best sustainable fashion products that you must try at the ISEF 2021 exhibition? See more below!
Arowana Mini Nutmeg Watch by Pala Nusantara
The arowana fish is known as the Indonesian water dragon thanks to its distinctive head, thick and sharp scales, and a shiny golden tail. The combination of toughness and its charm became the inspiration for Pala Nusantara, a fashion MSME from Bandung City, to design stylish, contemporary, and compact wooden watches to be worn on various occasions.
Photo: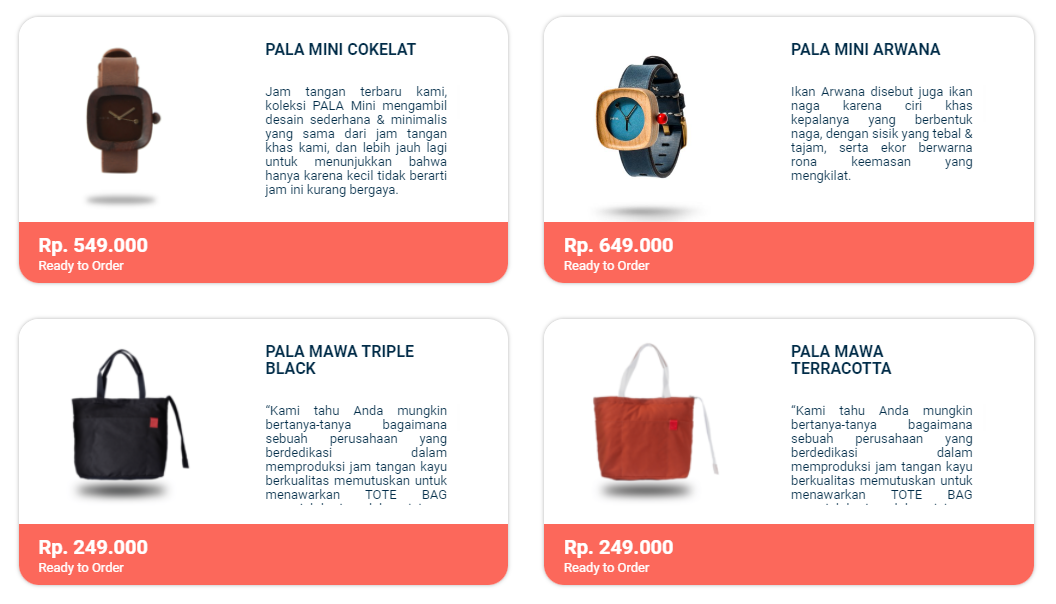 Leather Hand Clutch Ecoprint Recycled Cement Paper by heySTARTIC
The spirit of renewable fashion is evident in this heySTARTIC hand clutch design, which is made from a selection of quality leather patchwork, forming a beautiful and sturdy ecoprint motif. Its compact design makes the clutch feel ergonomic when gripped, and is able to enhance the appearance of the user's dynamic style.
Photo: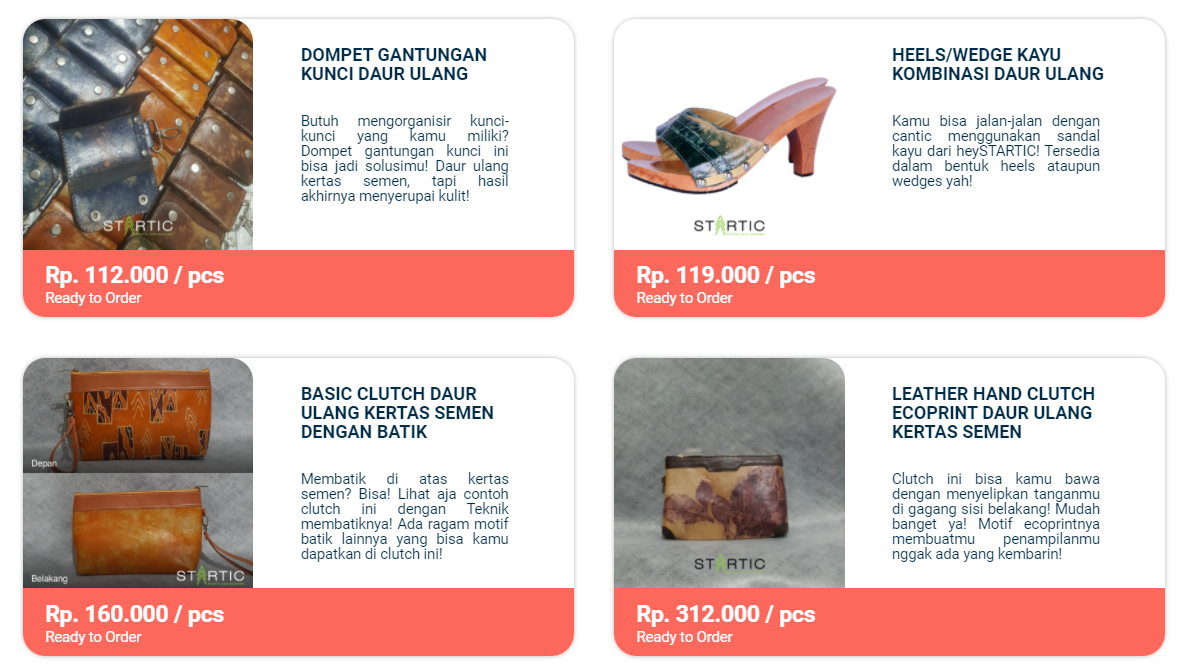 Abaka Earrings by Yannie Handicraft
This pair of earrings is made from natural fibers from the abaka banana tree, an endemic plant to the Talaud Archipelago, North Sulawesi. For a long time, the fiber of the abaca banana tree is known to have a strong texture so that it is often used as boat rope, fishing rods, and even part of the material for US dollar banknotes. Yannie Handicraft takes advantage of the advantages of this material to create women's bags, clothing, and accessories that are sturdy, eclectic, and of course environmentally friendly.
Photo: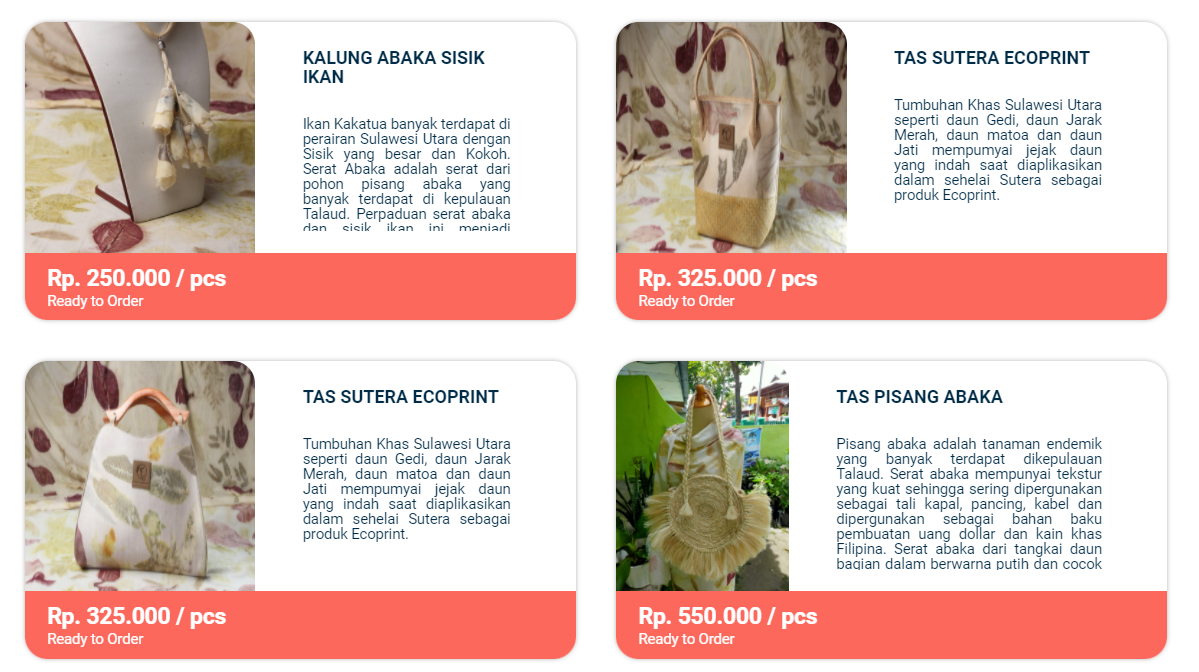 Tatuis Sajadah Tiara 030 Army
Focusing on modern worship equipment, Tatuis innovates to present a collection of beautiful prayer mats with semi-army motifs that are very light, easy to carry, and waterproof. The soft and comfortable material can support solemnity in worship in the middle of your trip or activity. Used personally or as a gift for friends and family, the Tatuis Sajadah Tiara 030 Army is an investment choice for Muslim consumers.
Photo :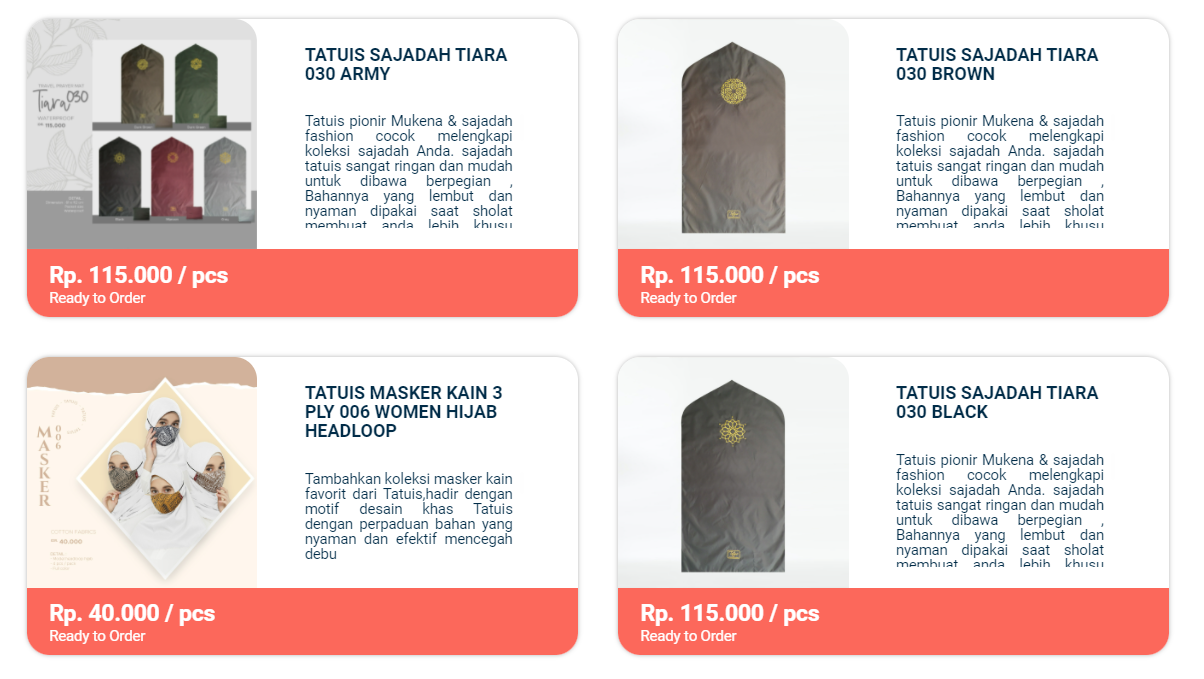 Bun Jawan Gem Silver Bracelet Silver by Sudana Silver
Classic and luxury are the two main impressions of silver material. Sudana Silver, an artisanal MSME from the Island of the Gods, Bali, cultivates this uniqueness into a variety of modern jewelry that breathes Indonesian-style designs. One that deserves to be a collection is the "Bun Jawan Permata Silver Bracelet Silver" which does not fade thanks to the use of high quality 925 silver material.
Photo: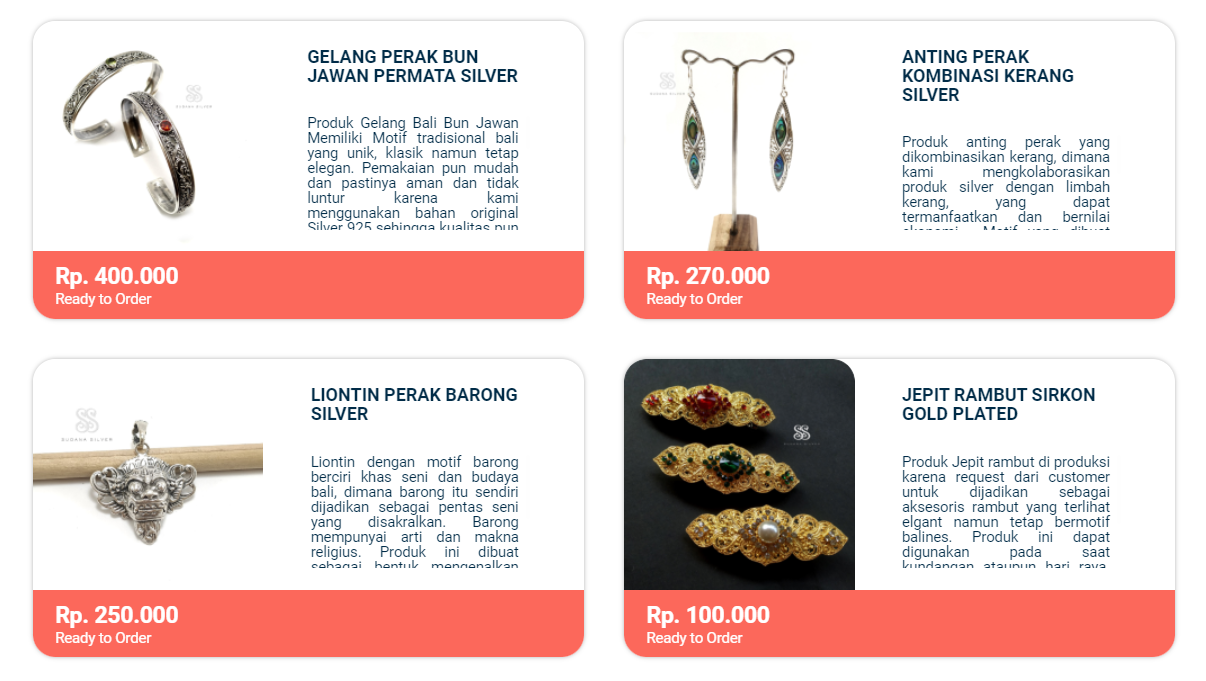 Sporty Dress Muslimah Olanye by Eko Tjandra
Designer Eko Tjandra launched the second label Olanye by Eko Tjandra which contains a collection of sporty-style Muslim clothing. This concept comes in attractive loose cuts, geometric motifs with a touch of unique traditional characteristics, as well as the selection of light and comfortable syar'i fabric materials to support the active movement of its users. Orders can be made via ISEF 2021 Exhibition for 3-5 working days.
Photo: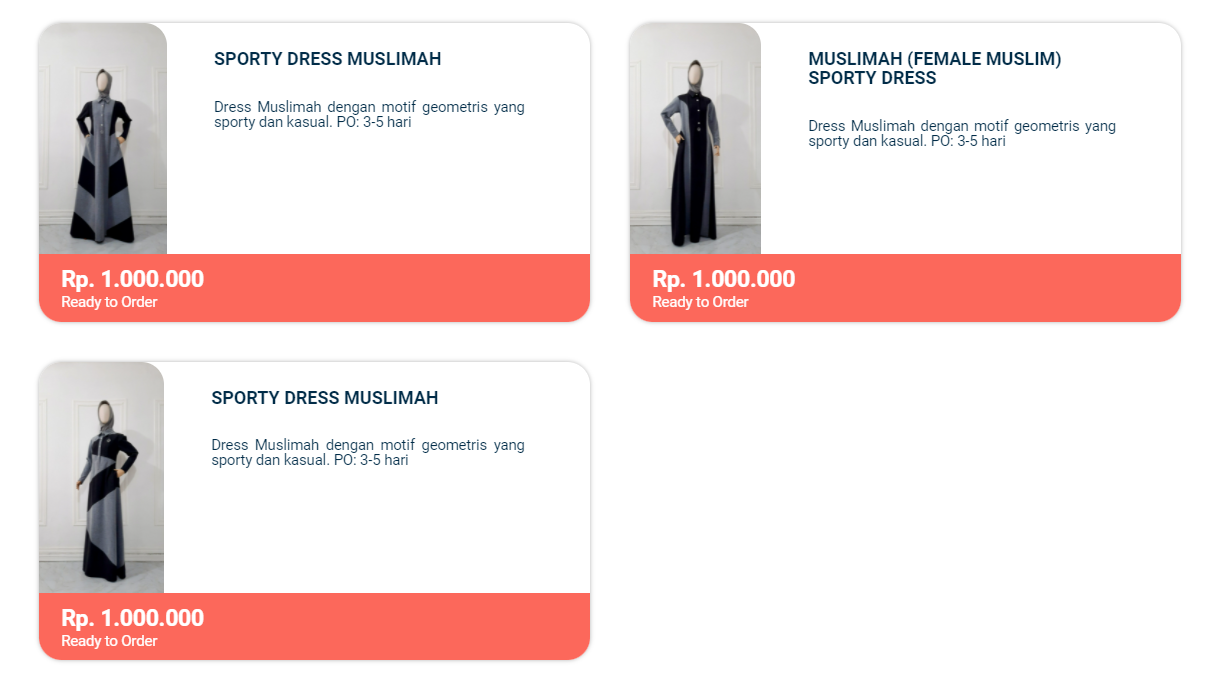 Navy Lurik Sarong by Ija Kroeng
Inspired by the sarong tradition by the people of Aceh, Ija Kroeng launched a series of sarongs with the Ikat lurik motif, typical of Acehnese cloth craftsmen. This motif is processed in such a way as to make modern clothes and accessories suitable for all ages. Moreover, every ikat lurik sarong produced by Ija Kroeng also incorporates the principle of sustainability through empowering local craftsmen, so that they not only preserve traditions, but also support the strengthening of the local economy.
Photo: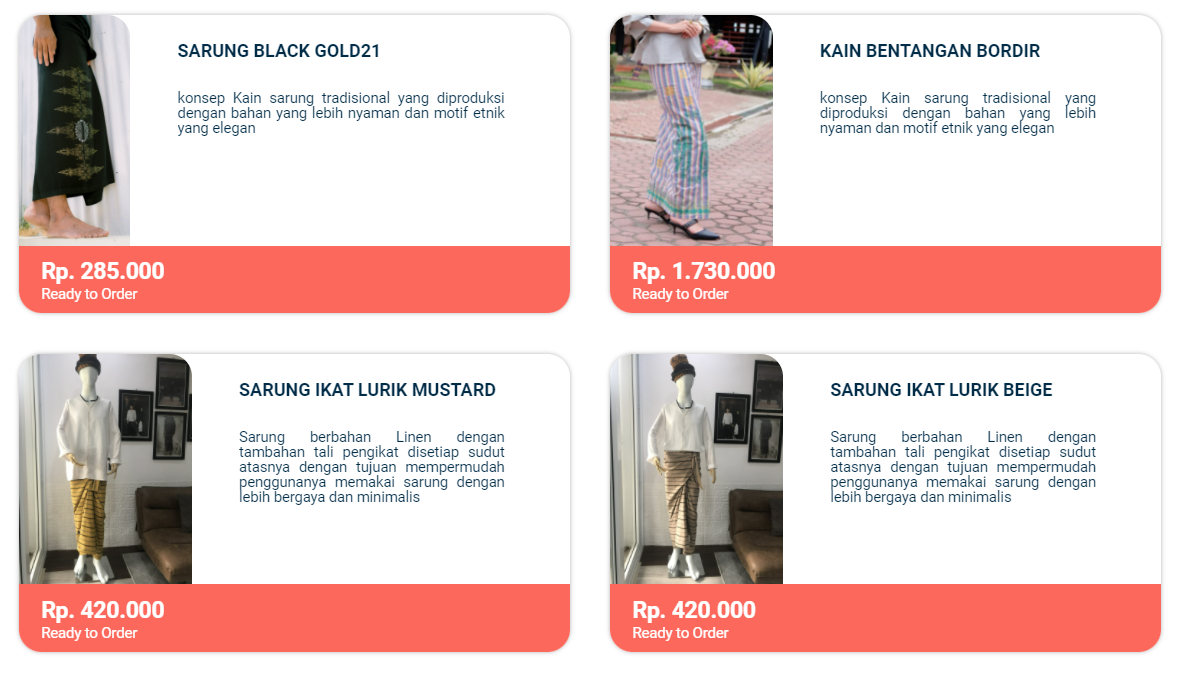 Hampers Set Weaving Ikat by Tenun Eboon
Hampers are becoming a trend in society, mainly as a strengthening relationship with family, friends, or colleagues. The Eboon Weaving Group from Lombok Island, West Nusa Tenggara, seized this opportunity to increase the marketability of its woven products made by local craftsmen. Because it is traditionally processed, each fabric is limited to only 20 meters for each woven motif, so it will make it exclusive when assembled into beautiful hampers for special moments.
Photo: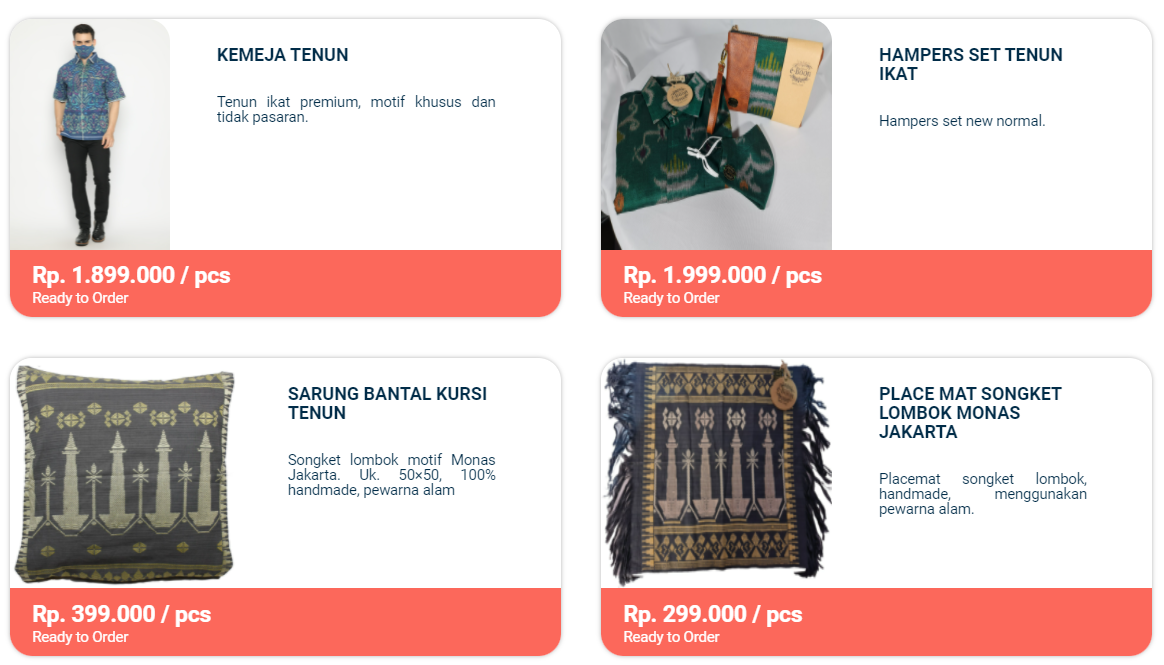 Men's Long Sleeve Shirt by Elemwe
Since its establishment in 2015, Elemwe is committed to inserting elements of Indonesian culture into its various Muslim fashion designs, particularly related to the use of Betawi traditional fabrics. Not only that, this East Jakarta based MSME is also mobilized local craftsmen in the region as a form of community empowerment effort as well as cultural preservation.
Photo: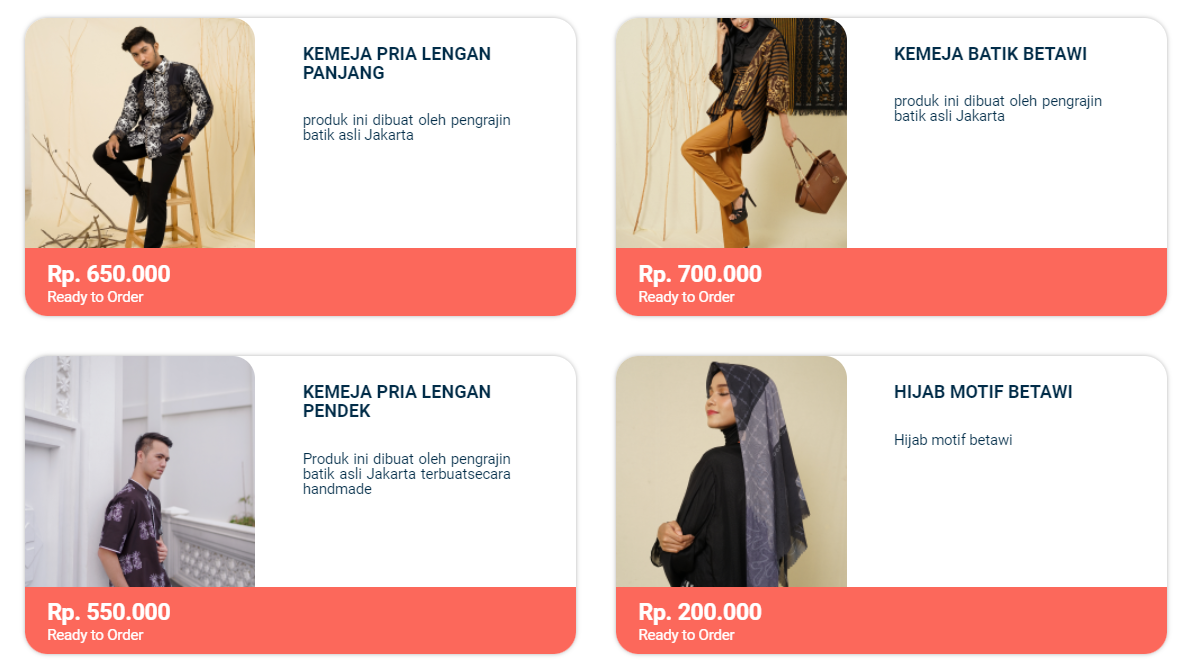 Round Stool Patchwork Goat Leather by CV Industri Classica Variation
Round Stool Patchwork Goat Leather is a handmade chair whose legs are made of teak wood, and the seat is covered with genuine goatskin in the form of patchwork to create an eclectic impression that will add to the beautiful appearance of the interior of the house. Artistic and sustainable are the two main characteristics of CV Industri Classica Variations as a manufacturer of this furniture.
Photo: