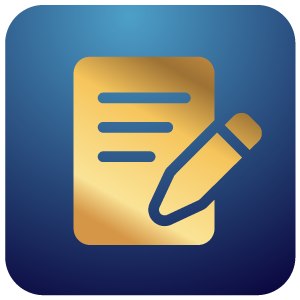 Competition of Article Writing of ISEF 2020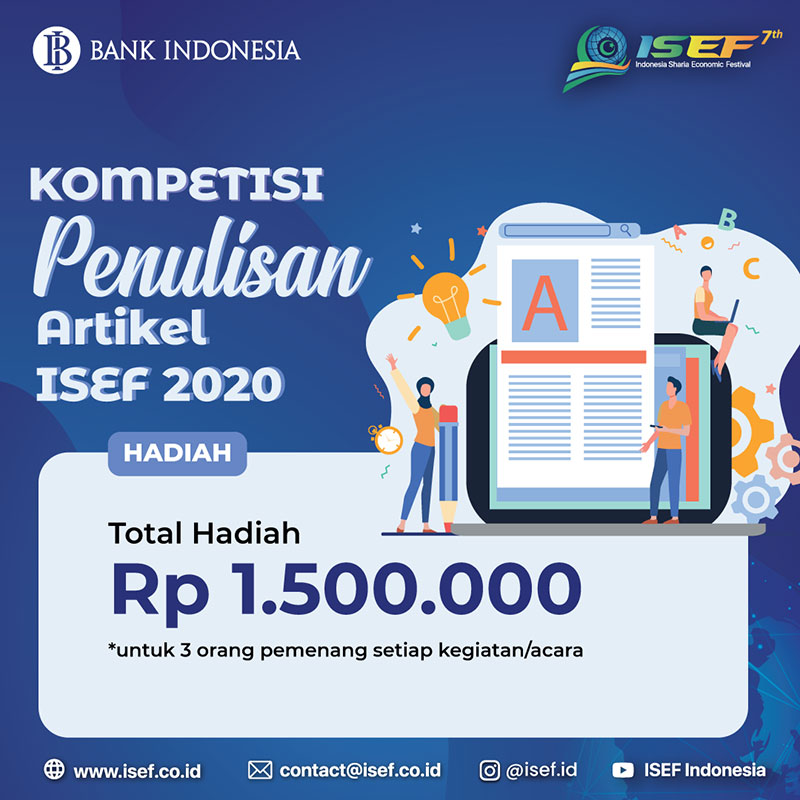 12
Days
01
Hours
00
Minutes
24
Seconds
Purpose of This Competition Agenda
The objectives of the ISEF 2020 competition are:
Inviting the public to participate actively in socialization and Eksyar education
Spur the growth of creativity and innovation ideas from the millennial generation and society
Provide and increase understanding of the related and basic matters of Eksyar. In this section, the implementation process is also the main objective of holding this competition.
Time and Place
Date: 16 September 2020 – 31 October 2020
Time: In accordance with the agenda in the ISEF 2020 activity schedule
Platform: Online platform
Timeline of Article Writing Competition Activities
This ISEF 2020 competition is a general activity and anyone can register via a virtual platform (for example zoom or other platforms that can be used to access www.isef.co.id and the ISEF Indonesia Youtube channel). This activity was held from mid-September until the holding of ISEF ended on 31 October 2020. All participants are expected to follow the activity agenda regularly by accessing www.isef.co.id and also following ISEF's social media (Instagram with the address @isef.id; Youtube ISEF Indonesia; Facebook ISEF Indonesia; and Twitter @isefindonesia).
Requirements for Participating in the 2020 ISEF Article Writing Competition
Indonesian citizens domiciled in Indonesia and abroad, who have an age range between 18 – 34 years .
Participants carry out a registration process to be able to participate in all activities held by ISEF. Registration can be done by visiting the ISEF website with the URL www.isef.co.id. If you have not been able to join due to limited quota, you can watch ISEF Indonesia Youtube for more information (following activity updates on Instagram @isef.id).
Participants must follow the subscribe on ISEF's social media accounts on Youtube ISEF Indonesia: Instagram @isef.id; Facebook ISEF Indonesia; and Twitter @isefindonesia.
Participants create themed articles as determined by ISEF with the following conditions:
The material uses topics that exist in ISEF 2020 (around 60%) and the topics created can be in the form of developments from self-observatiions outside ISEF 2020 activities. Any material that made describes ISEF activities must use the 5W + 1 H, such as what, when, where, who, why, and how.
Article must be non-plagiaristic, original, and never published anywhere.
Articles must have a minimum number of 300 words with 1.5 spacing, 11 Calibri for the font, A4 paper size, and include 1 screenshot of the activity.
Articles that have been made can be sent to the ISEF website in PDF format and the title of the file uses: Activity time (ddmmyy)_Article_ISEF_Name of Participant. (Example: 310920_Article_ISEF_Gusti Hafiz). Participants also need to attach the author's name, Whatsapp number, Email, and Instagram account.
Each participant needs to submit an article with a written submission deadline, H+3 (according to the ISEF calendar of activities). For example, an ISEF competition is held on Monday 14 September, so the deadline to submit articles is 17 September at 23.59 WIB. Collections more than the specified time will be considered invalid.
Articles made by participants must not contain racial or plagiarism elements. ISEF party will carry out checks in earnest about this. If several sources of writing are found outside ISEF, it is necessary to include the source of the writing. Participants must sign a special statement where the work made is their own original work and not the result of copying from other sources.
Articles use Indonesian that is good and correct or popular.
Participants do not need to pay any fees, because ISEF does not charge fees.
Every article submitted becomes the property of the ISEF committee so that it can be published in part or full on various ISEF communication media, ISEF website, and so on. If there are lawsuits regarding plagiarism in the future it will be the responsibility of the participants.
Key Points of Assessment
Match between the title and the activities article held by ISEF 2020
Writing must have the meaning or message inside
An attractive writing procedure and in accordance with the elements required for the ISEF 2020 article.
The judging system will use the internal ISEF committee.
Prizes for the Competition Winners
Announcements will be held every week where at least 3 participants will become winners with the best article conditions. The winner will get a prize in the form of IDR 500.000 (the tax will be payable by the winner) for each participant. Every winner's name will be notified via social media, especially Instagram @isef.id.