Kick Off & Opening Ceremony
Kick Off & Opening Ceremony
The ISEF 2020 series activities will begin with the Kick Off event on 7 August 2020. The kick-off agenda will be a momentum and symbol for the recovery of Indonesia's Sharia economy and finance, as well as the opening of a series of ISEF 2020 agendas. The agenda will be attended and opened by Deputy The President of the Republic of Indonesia, Mr. KH. Ma'ruf Amin, who is also the Daily Chair of the Sharia National Economic and Financial Committee (KNEKS).
The kick-off agenda raised the theme "Awakening of Early People Towards Advanced Indonesia".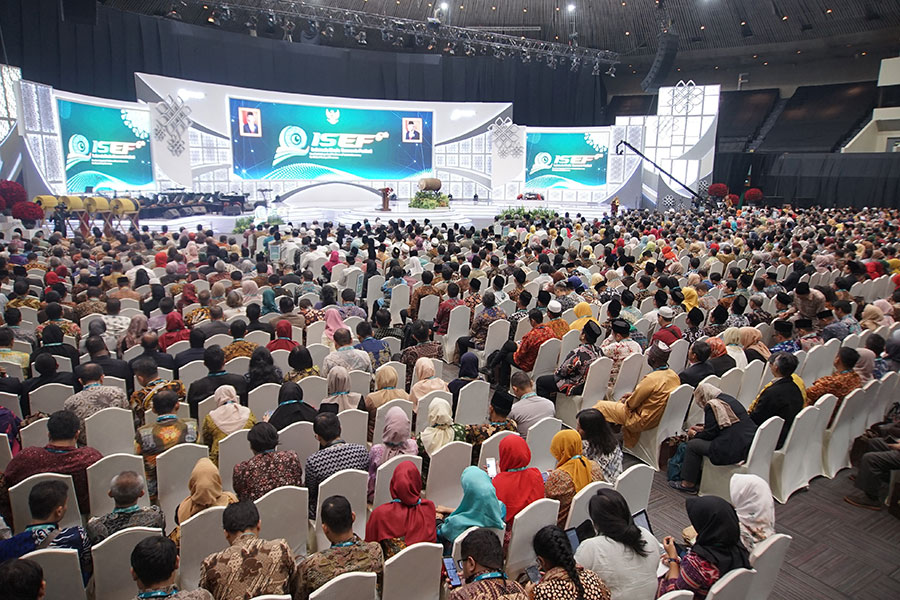 One of the influential roles in Indonesia's independence effort is youth, so there is a commemoration of Youth Oath Day in Indonesian history. On the other hand, one of the symbols of the revival of Muslims is the commemoration of the Prophet's Birthday. The opening of the ISEF 2020 Opening Ceremony described the two major events as opening a series of ISEF agendas aimed at developing sharia economics and finance through empowering the economic community, whose important components include millennials or youth.
The Opening Ceremony agenda raised the theme "Bringing the spirit of the Youth Oath and the Prophet's Birth as a sign of the revival of Indonesia's economy after COVID-19".
Agenda Kick-Off ISEF 2020
Jum'at, 7 Agustus 2020
Waktu : Pkl 08.00 – 10.00 WIB
Platform : ISEF Virtual platform, Broadcast Social Media
Waktu
Agenda
Ket
08.30 – 09.00
Registrasi, Persiapan acara, Penampilan hiburan oleh talenta Bank Indonesia
Menunggu masuknya tamu

VVIP

09.00 – 09.10
Pembukaan oleh MC
MC
09.10 – 09.20
Pembacaan Ayat Suci Al Quran & Do'a
Qori & Pembaca Doa
09.20 – 09.35
Sambutan Gubernur Bank Indonesia
 

09.35 – 09.50

Sambutan dan Kick Off oleh Wakil Presiden dan Ka. Harian KNEKS, diikuti dengan Testimoni dari 3 Ka. Daerah (Host Fesyar)
Sambutan dan Pemutaran video testimony
09.50 – 09.55
Pembukaan dan Peresmian Rangkaian Kegiatan ISEF 2020 oleh Wapres, Video Rangkaian Agenda Acara

ISEF 2020

Peresemian dan pemutaran video
09.55 – 10.00
Persembahan konser musik dan penutupan
Penampilan bintang tamu
Rabu, 28 Oktober 2020
Waktu : Pkl 12.00 – 14.00 WIB
Platform : ISEF Virtual platform
Waktu
Agenda
Ket
 

11.30 – 12.30

Registrasi, Persiapan Acara, dan Peserta sudah memasukin link virtual
Menunggu masuknya tamu VVIP
12.30– 12.35
Safety Announement
PIC
12.35 – 12.50
Hiburan oleh Pertunjukan Orkestra musik Erwin Gutawa
Bintang tamu
12.505 – 13.00
Pembukaan oleh MC
MC
13.00 – 13.05
Menyanyikan lagu Indonesia Raya
Dirigen & Orkestra
13.05 – 13.10
Pembacaan Ayat Suci Al-Quran dan Do'a
Qori & Pembaca Doa
13.10 – 13.15
Pemutaran Video-Video
13. 15 – 13.30
Sambutan Gubernur Bank Indonesia
13.30 – 13.35
Pemutaran Video Capaian ISEF
 

13.35 – 13.50

Pernyataan Peresmian Presiden RI

-Pemencetan Bedug Digital

-Foto Virtual Bersama tamu VVIP

13.50 – 14.00
Kunjungan VVIP ke virtual exhibition dan virtual international showcase dengan diiringi penampilan musik oleh talenta Bank Indonesia