Press Release
Jakarta Convention Center, 7 Oktober 2022
Sebagai penutup rangkaian Bulan Pembiayaan Syariah (BPS) 2022, Bank Indonesia bersama Komite Nasional Ekonomi dan Keuangan Syariah (KNEKS) menyelenggarakan Talkshow dan Seremoni Business Deals Pembiayaan Syariah KPBU (7/10) sebagai bentuk sosialisasi sekaligus diskusi mengenai penyaluran pembiayaan syariah kepada proyek infrastruktur dengan skema Kerjasama Pemerintah dan Badan Usaha (KPBU). Direktur Bisnis dan Kewirausahaan Syariah Komite Nasional Ekonomi dan Keuangan Syariah, Bapak Putu Rahwidhiyasa menyampaikan dalam keynote speechnya bahwa acara ini menjadi momentum yang sangat baik untuk menggaungkan peningkatan kontribusi lembaga keuangan syariah dalam pembangunan infrastruktur nasional, dimana pada tahun ini nilai pembiayaan syariah untuk proyek KPBU meningkat dari tahun sebelumnya.
Direktur Jenderal Pembiayaan Infrastruktur Pekerjaan Umum dan Perumahan Kementerian PUPR, Herry Trisaputra Zuna dalam sambutannya menyampaikan bahwa lembaga keuangan syariah saat ini baru memberikan kontribusi kurang lebih 7% dari total pembiayaan jalan tol dan non tol sehingga hal ini dapat menjadi peluang bagi pembiayaan syariah untuk menjadi solusi pembiayaan infrastruktur yang saat ini sangat minim insentif dengan membuat skema pembiayaan yang tailor-made, salah satunya dengan skema pembayaran pokok dan imbalannya disesuaikan dengan tingkat pendapatan dari jalan tol.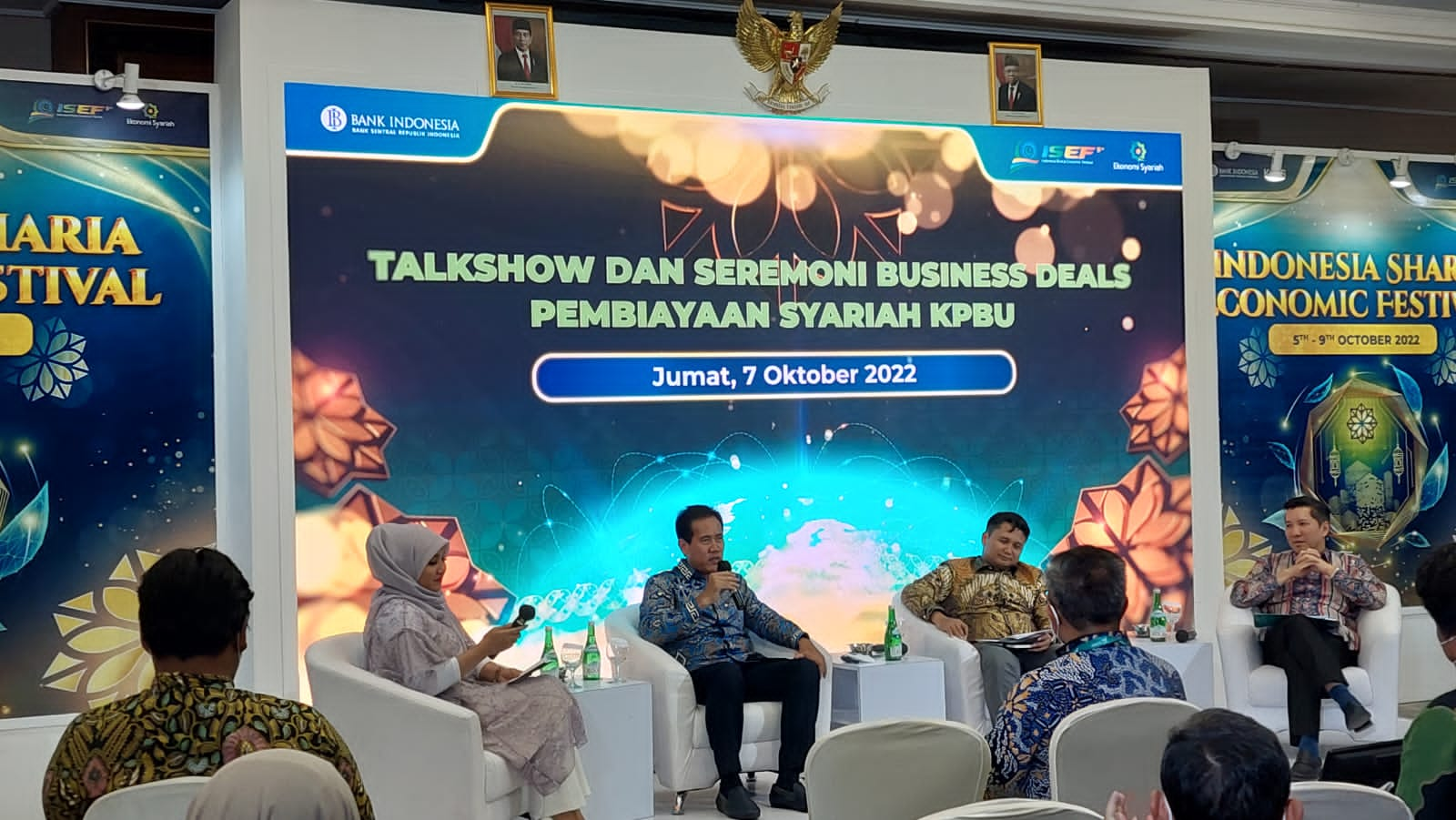 Salah satu agenda utama pada kegiatan ini adalah atas Talkshow tentang Pembiayaan Syariah Pada Proyek KPBU yang diisi oleh tiga narasumber, yaitu Bapak Pramusinto, Direktur Keuangan PT PP Semarang Demak, Bapak Arief Subekti, Head of Sharia Business Division PT Sarana Multi Infrastruktur (SMI), dan Bapak Indra Kampono, Executive Vice President Corporate Finance and Solution Bank Syariah Indonesia (BSI). Dalam talkshow tersebut ketiga narasumber menjelaskan tentang proyek tol Semarang-Demak dan skema pembiayaan syariah yang disalurkan, serta mendiskusikan peluang dan tantangan pembiayaan syariah untuk dapat meningkatan perannya dalam pembiayaan infrastruktur di Indonesia.
Kegiatan kemudian dilanjutkan dengan Seremoni Pembiayaan Syariah Proyek KPBU Tol Semarang-Demak dari sindikasi BSI, UUS Bank Sumut, Bank Aceh, UUS Bank Jatim, Bank Riau Kepri (BRK) Syariah, UUS Bank Jateng, dan PT Sarana Multi Infrastruktur (SMI) sebesar Rp 1,34 triliun yang turut disaksikan oleh Bapak Eka Pria Anas selaku perwakilan dari Badan Pembangunan Jalan Tol Kementerian PUPR yang dalam skema KPBU tersebut bertindak sebagai Penanggung Jawab Proyek Kerjasama (PJPK).