Production Capacity:400 kg per month
Marisa food is a Fishery Processing Unit in Purbalingga, established in 2011. Marisa Food utilizes local fishery potentials and turns them into various fish-based products. We are motivated to continuously innovate and even embrace zero waste principles in our business operations with the spirit to keep advancing. We believe that these mindsets and efforts will constantly improve the values of our products while minimizing their wastes to the environment. Therefore, our products consistently embrace the principles of healthy food, which is no preservative and no MSG are used. Our current products are: abon lele (catfish floss) that comes in 3 flavors (original, spicy & rendang), pastel kering mini (dried mini pastel), ladrik (snack made of fishbone paste), biskuit ikan (fish biscuit), keripik kulit ikan (fish skin chips), bakso (fish meatball), otak-otak (fish cake), fish nugget and rollade (fish cake roll).
---
Owner: Yelfia
Patemon RT 02 RW 01 Kec Bojongsari Purbalingga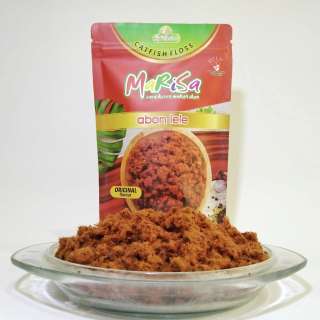 Abon Lele original 80 grams (original catfish floss)
We produce 'catfish abon' (catfish floss), specially for customers who consistently seek and prioritize healthy food. The product is only made of natural ingredients without MSG, preservatives, or food coloring.  Abon Lele Marisa original fiber is 100% made of fresh catfish where we seriously take care of its hygiene and quality. The product has a soft fiber texture, tasty flavor that balance between sweetness and savory.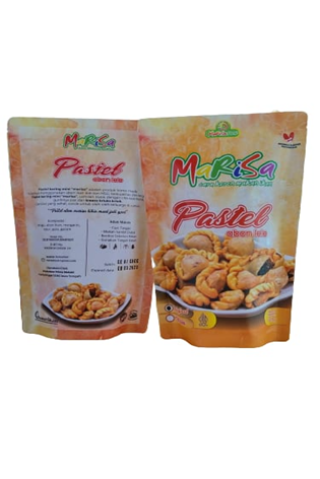 Pastel Kering Mini 120 gram (mini dried pastel)
We present premium pastel with abon filling that has superior flavor, high quality, and exciting looks. Marisa midi dried pastel is only made of premium ingredients, dried, crunchy, and not greasy. This product is perfect for eating together in a relaxed gathering with family and giving to friends or acquaintances as a souvenir.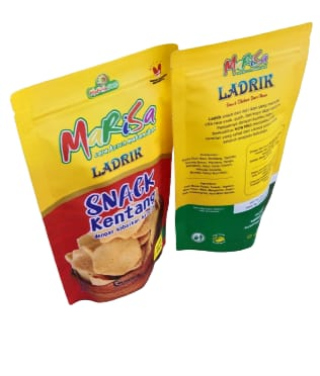 Ladrik 80 gram
Ladrik is a snack made from paste from fish bones. This snack is one of its kind and only produced in Marisa Food.  Marisa applies zero waste principles as one of its innovations. The raw ingredient, the whole fish, including its bones, is cooked using a high-pressure cooker (presto) so all bones become soft and mixed with the meat to make a paste. From this paste, then ladrik are made. It is healthy, high in calcium, tasty, and crunchy. When it is served with the accompanying non-MSG spice powder, it will become a great choice to cater to the whole family.
---