Production Capacity:50,000 pcs per month
Rafins is an original Indonesian brand that envisions superior and competitive compared with imported products in the market. Rafins snack uses 100% locally sourced raw ingredients and workers to empower local people by employing production.  Rafins is committed to helping local people while providing the best snack Products.
---
Owner: Muhammad Ravie
Jl. Jendral Sudirman No.2, Lampung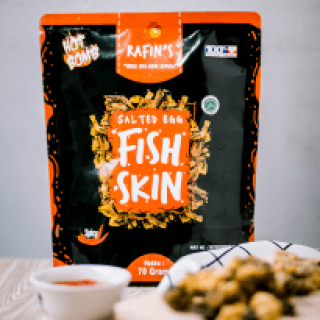 Rafin salted egg fish skin
Rafin Salted Egg Fish Skin is one of Rafins' first snack products, with fish skin as an ingredient and salted eggs flavor.
---