CV. Serai Wangi Makmur Abadi
Salakilo
Production Capacity:
15,000 pack per month
Salakilo is a brand for our range of Salak or snake fruit-based products, processing snake fruits abundantly produced in Balikpapan, East Kalimantan since 2012. Balikpapan snake fruit has a little bitter and sour taste that makes them difficult to sell even though snake fruits are very good for your health as it is rich with beta-carotene and antioxidants. Cake Salakilo helps salak fruit farmers increase the value of their yield by processing it into delicious and healthy products. Our cakes do not use preservatives, essence, or sweeteners. They are packaged exclusively and offer well-preserved flavors, making Cake Salakilo crowned as the best Indonesian master souvenirs by Blueband in 2016.
The business is helping Balikpapan snake fruit farmers and preserving local wisdom for a sustainable environment and social welfare. Salakilo cakes always come with the tagline "Blessing in every bite."
---
Owner: Riswah Yuni
Jl. MT. Haryono KM. 4,5 Kel. Batu Ampar, Kec. Balikpapan Utara. Kota Balikpapan. Kalimantan Timur. 76136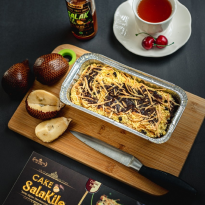 Cake Salak (snake fruit cake)
Cake Salak uses Balikpapan local snake fruit as its main ingredient, which makes it tasty and healthy. Cake Salakilo won the best Indonesian master souvenirs by Blueband in 2016.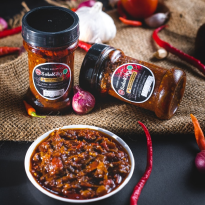 Sambal Ulek Salak (snake fruit chili paste)
Sambal Ulek SalaKilo" goes anti-mainstream with its ingredients. While other Sambals use chili, shallots, and tomatoes as their main ingredients, Sambal Ulek SalaKilo replaces the tomatoes with snake fruit, offering Sambal a different experience and taste.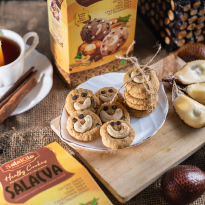 Cookies Salak Salacva
Cookies Salak Salacva is another healthy product from SalaKilo. It is made from snake fruit, mocaf flour, palm sugar, cashew nut, and chocolate chips. The use of palm sugar makes it less harmful for people with diabetes, and the use of mocaf flour that's gluten-free makes this product safer for those who are allergic to gluten.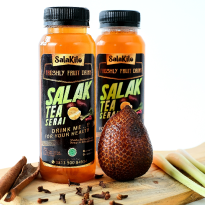 Minuman Salak Tea Serai (snake fruit and lemongrass tea)
'Minuman Salak Tea Serai' is made of snake fruit extract, a stew of snake fruit peel, red ginger, lemongrass, cinnamon, cloves, and pandan leaf. The drink helps to boost our immune system to prevent infectious diseases, including COVID-19. In addition, the stew of snake fruit peel is helpful to cure diabetes.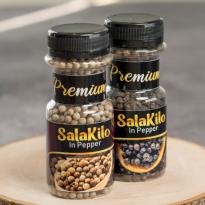 Asinan Salak (Snake fruit pickles)
Asinan salak, which is refreshing and healthy, is a great snack to eat together with family. It is also a fantastic item to take home as a souvenir from Balikpapan.
---