Production Capacity:100 packs per day
Keripik Sukun Amenya (Amenya Breadfruit Chips) has a unique taste, is safe to eat, healthy, and tasty. The chips are made of fresh ingredients from local Manokwari breadfruit, which is believed to be the tastiest in Indonesia.
---
Owner: Iroh claudia
Jln. Gunung Salju no.32 Manggoapi, Manokwari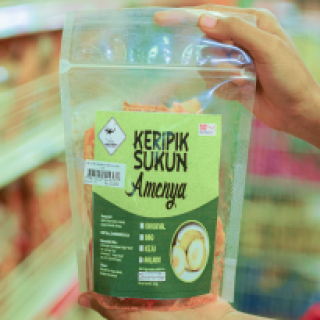 Keripik Sukun (Breadfruit Chips)
Keripik Sukun is one of Pokja Viva's main products. It is our breadfruit chip-based product that has been displayed in many SMEs exhibitions. For example, in one of the exhibitions, Indonesian President Mr. Joko Widodo had tasted the chips at the SMEs event held by Bank Indonesia in 2018.
---