Production Capacity:
500 pcs per month
Machili Food is a small business manufacturing various Sambal ranging from fresh Sambal to dried Sambal based on processed fish or other seafood. Currently, Machili food is developing new products such as salmon and patin skin crackers. Our fish skin crackers products come in various flavors (i.e., Original Flavor, Salted Egg, Spicy Salted Egg, and Spicy Flavor). Our featured product is Sambal Kupang Tabur (dried ground sambal made of Kupang, a tiny seashell that lives on calm water and muddy beaches). This Sambal is a pioneer in its class.
---
Owner: Lulu Atul Avifah
Jl. Edelweis 2 Blok E2/16 Taman Modern, Kel. Ujung Menteng, Kec. Cakung, Jakarta Timur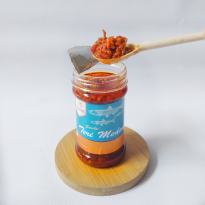 Sambal Teri Medan (Medan Anchovy Sambal)
With its massive sea area and its rich biodiversity, Indonesia is blessed with an abundance of seafood. One of the most famous is anchovy, which Indonesian are so familiar with. To improve the value of anchovies, we try to incorporate them into special Sambal or traditional chili paste. The result is a fantastic Sambal that is tasty and full of flavors that significantly increase the anchovy's value.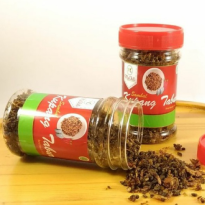 Sambal Kupang Tabur (dried ground chili mixed with kupang)
Kupang (a tiny seashell that lives on calm water and muddy beaches) is traditionally consumed mainly in East Java, especially in Surabaya and Sidoarjo as Lontong Kupang. For making other Kupang-based products, we invented the dried ground sambal made of Kupang. It is more practical, easy to use anywhere, and a new kind of Sambal. Moreover, the taste is unique yet delicious, enticing curiosity to try and consume it.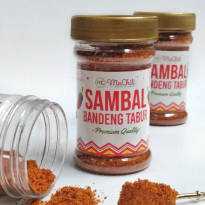 Sambal Ikan Bandeng (Milkfish chili paste)
Bandeng (milkfish) production is abundant in Indonesia. Up to now, milkfish have been processed into traditional food such as fried milkfish or otak-otak milkfish. However, Machili food is trying to create another line of milkfish products: milkfish-based dried Sambal and fresh Sambal in oil.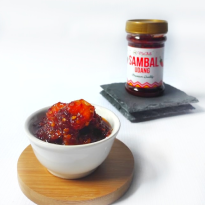 Sambal Ikan Udang (fish and shrimp chili paste)
There are many types of shrimps in terms of their size and category. For this product, we use small to medium-sized shrimps, which usually have a low value in the market. By turning them into dried ground Sambal or fresh Sambal in oil,  the not-so-favorite shrimps can be commercial in the market. The product variety which is based on shrimps is also increasing. Moreover, these products are designed for practical and straightforward use, easy to carry, and spill-free.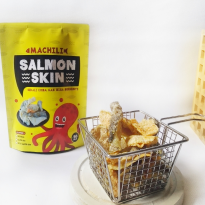 Kerupuk Salmon Skin (salmon skin cracker)
Salmon fillets have been massively produced to meet the high demand for supermarkets and big restaurants. However, the salmon skins mostly become waste without any value. This product turns those waste into a delicious and nutritious snack at a competitive price.
---